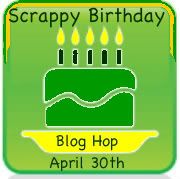 Welcome to the Scrappy Birthday Blog Hop. I am so glad you could make it. First off I want to wish April Nourse a Very happy Birthday! I also want to thank her for allowing me to be a part of this Great Hop. Now if you are come from Theresa White's blog ~
http://treasures4lifeby-t.blogspot.com
then you are in the right place, if not you will want to start at the beginning with April Nourse's blog ~
http://curlsngrins.blogspot.com
. I don't want to miss any of the wonderful creations. So now on to my projects. i decided to make two projects for this hop, the first is an altered wooden purse. It was super simple to make, I just painted the purse to match the pattern paper I glued to it. Then I made some matching flowers for embellishments. Then I made a few flowers for the inside of the purse.
For my second project, I wanted to finish up a page I had made a while back, but never finished. So I finished it and decided it would work great in this hop. So here it is. I hope you enjoy it.
So now, this would not be a Birthday hop, without any gifts. I am doing an April giveaway! There will be three winners picked for some Pretty Amazing gifts. All you have to do is leave a comment here, and become a follower if you are not already one. Okay, now on to your next stop with Lisa Norris's blog ~
http://prettypaperprettyribbons.blogspot.com
. Thank you for stopping by, I hope you have a Great weekend.
HUGS,
Martha